FirstEnergy Hero Awards Honor Employees for Acts of Courage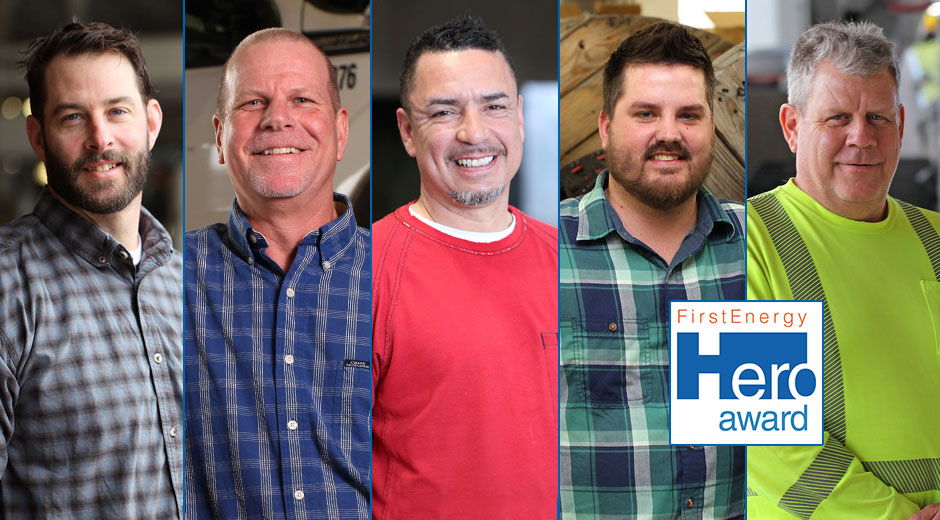 Safety is a core value at FirstEnergy, and our commitment to employee and public safety extends beyond our daily operations. Nowhere is that more evident than through the actions of our employees who go above and beyond to help others in need. On May 16, FirstEnergy recognized five of its employees who displayed courage, safety expertise and a willingness to act quickly to help someone in danger.
Award Recipients
Tony Reams of Toledo Edison received the company's Gold award for his life-saving response to an unconscious motorist. While driving with a friend last fall in Oregon, Ohio, Tony saw two pedestrians attempting to pull a man from the driver's seat of a stopped vehicle. Tony pulled over to assist and discovered that the driver was not breathing and had no pulse. He quickly took charge of the scene, administering CPR until a pulse was detected and emergency responders arrived to take over.
Tony is a Credit Representative at Toledo Edison's Holland Operations Center in Holland, Ohio. The CPR training he received as part of his work, as well as his swift response, helped save the man's life.
Other recipients of the HERO Awards include:
Josh A. Gorham – Account Supervisor, The Illuminating Company – Fairlawn, Ohio
Silver award for administering first aid to a choking employee
Kevin R. McCleary – Manager, Regional Fleet and Facility Services, Mon Power – Parkersburg, W.Va.
Bronze award for performing CPR on a runner who was suffering a heart attack
Kevin L. Raney – Meter Technician, Potomac Edison – Martinsburg, W.Va.
Honorable mention for attending to a lost child on the road
Daniel M. Stablein – Troubleman, Penelec – Erie, Pa.
Honorable mention for safely helping a driver who was disoriented and driving erratically due to health issues
"I'm proud of our employees who step up in times of need and act as a hero to those around them," said Charles E. Jones, President and CEO of FirstEnergy. "Their selfless acts of courage and caring, which have made a tremendous difference in another's life, are an inspiration to us all."
As part of the Hero Awards program, FirstEnergy Foundation is donating $1,000 to Lott – a non-profit 501(c)3 organization of Tony Ream's choice – which provides educational and vocational opportunities for people with developmental disabilities.
FirstEnergy introduced the Hero Award program in 2015 to highlight employees who have made a life-changing difference for coworkers, friends and total strangers. Congratulations to these heroes, and all of the employees who were nominated as part of this program.
Find a CPR Certification class at www.redcross.org/take-a-class/cpr. To learn more about Lott and the work they do, visit http://lottserves.org.
Photos of award recipients are available for download on Flickr. Follow us on social media for stories about these and other employees who make our company – and the communities we serve – a better place to live and work.
CONTACT: Aaron Ruegg, 330-761-6072