Employee Takes Life-Saving Action to Help Stranded Kayakers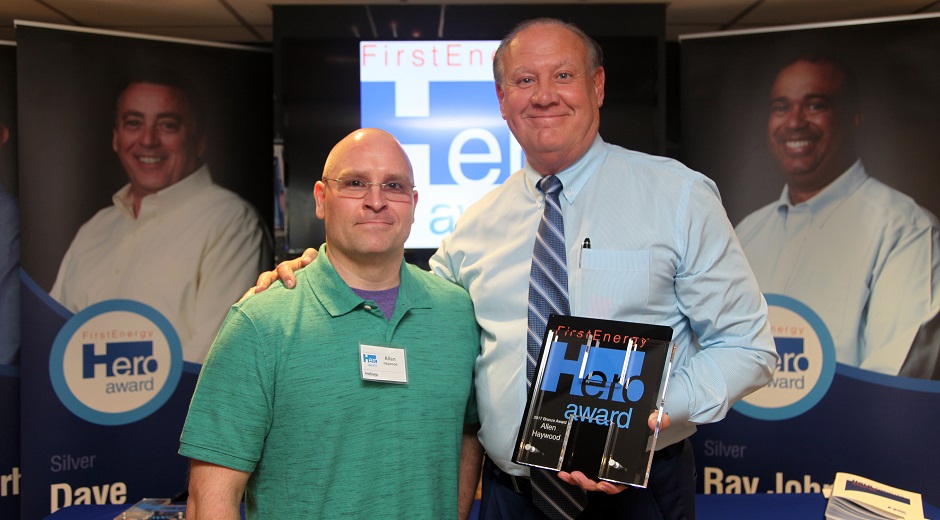 Allen Haywood, a nuclear instrument and controls technician, was recently honored with FirstEnergy's Hero Award for providing life-saving assistance to a group of kayakers.
As Haywood was crossing a bridge over the Grand River in Madison, Ohio, he saw two capsized kayaks float by. He stopped to assess the situation and discovered three people standing in the freezing water. Haywood learned that the kayakers were becoming hypothermic, and that a member of their party was missing.
He put the three kayakers in his vehicle to warm them and called 911 for assistance. The fourth kayaker was rescued four hours later.
Haywood was one of six employees recognized by FirstEnergy President and CEO Chuck Jones at this year's FirstEnergy Hero Awards ceremony.
"Allen's actions were lifesaving because he assisted capsized kayakers who were not dressed properly for the freezing weather," said George Dujanovic, staff nuclear engineering specialist, who nominated Haywood for the award. "Because he alerted the authorities, a lost kayaker was found and received treatment for hypothermia."
FirstEnergy introduced the Hero Award program in 2015 to recognize employees who have made a life-changing difference for coworkers, friends and total strangers. By taking the time to care, they are making FirstEnergy – and the communities we serve – better places to live and work.
Congratulations, hero!
MEDIA CONTACT: Christy Hajoway, 330-374-6544