FirstEnergy safety demonstration illustrates dangers of power lines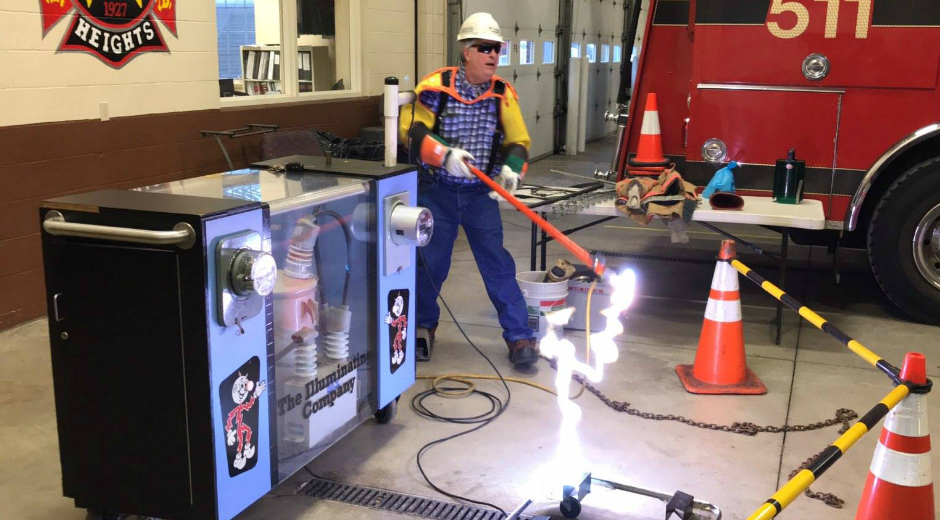 When police officers, firefighters or paramedics respond to car accidents or fires, they are typically the first on scene and face the greatest risk from electrical hazards like downed wires.
To paint a clear picture of the dangers associated with electricity, FirstEnergy kicked off the first of several safety demonstrations it will hold each Wednesday in October for first responders in the city of Cleveland.
Nearly 75 paramedics and firefighters attended the first session on Oct. 4, which featured FirstEnergy supervisor Mike Ressler showing the power of 7,620 volts of electricity against various materials using a mobile electrical safety exhibit.
This unique machine allows emergency responders and the public to see the dangers of electrical equipment in a controlled environment. The miniature electrical distribution system features live electrical wires, utility poles and transformers.
"Electricity does not throw you, it grabs you and sucks the water out of your muscles so you can't let go," Ressler said. "When people understand the dangers and they see the dangers firsthand, it could potentially save lives."
Ressler – a 33-year veteran lineman with FirstEnergy utilities – created bright arcs by using a transformer to send electricity through various materials including a metal chain, insulated wires and fire-resistant gear worn by firefighters.
In one of the more striking demonstrations, Ressler electrified the rubber safety glove he was wearing. No arc appeared. He then proceeded to put a small pinhole in another rubber glove, resulting in a large, potentially deadly arc. This highlighted the importance of testing one's safety equipment daily.
Ressler reminded attendees that all downed wires should be treated as electrified until they are de-energized by the power company. He also stressed the importance of being alert around electrical equipment, because a simple distraction like a phone call could result in contact with a low-hanging or hidden power line.
According to FirstEnergy External Affairs Manager David Turner, safety is the most important aspect of any job or emergency site.
"With this program, our goal is to enhance emergency responders' understanding about electricity and how to respond to emergencies where an electrical hazard is present," he said.
Each year, FirstEnergy conducts nearly 100 safety demonstrations for first responders and residents in communities across the company's 10 electric utilities in Ohio, Pennsylvania, New Jersey, Maryland and West Virginia.
By the end of October, Turner said the company will have trained more than 350 first responders with Cleveland's emergency medical service.
For more information on electrical safety, visit www.firstenergycorp.com/safety.