Toledo Edison Volunteers Deliver a Playhouse – with an Electric Meter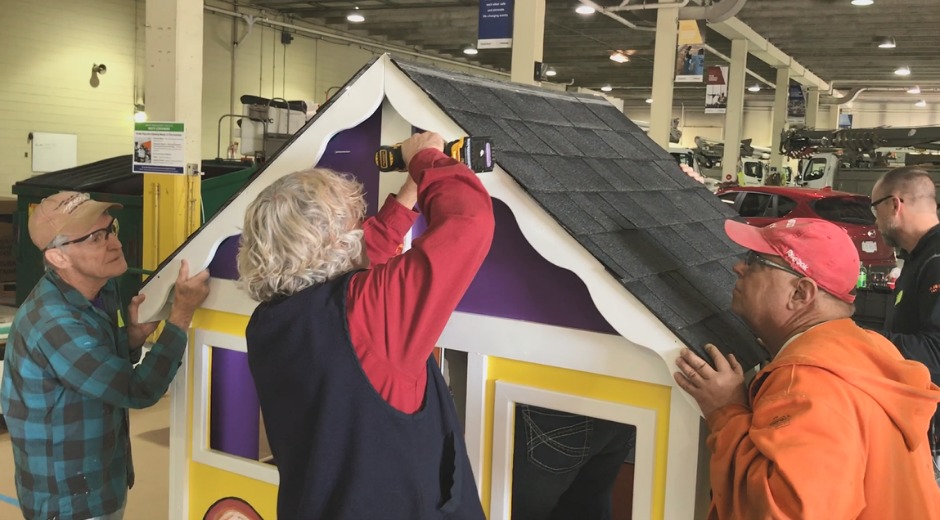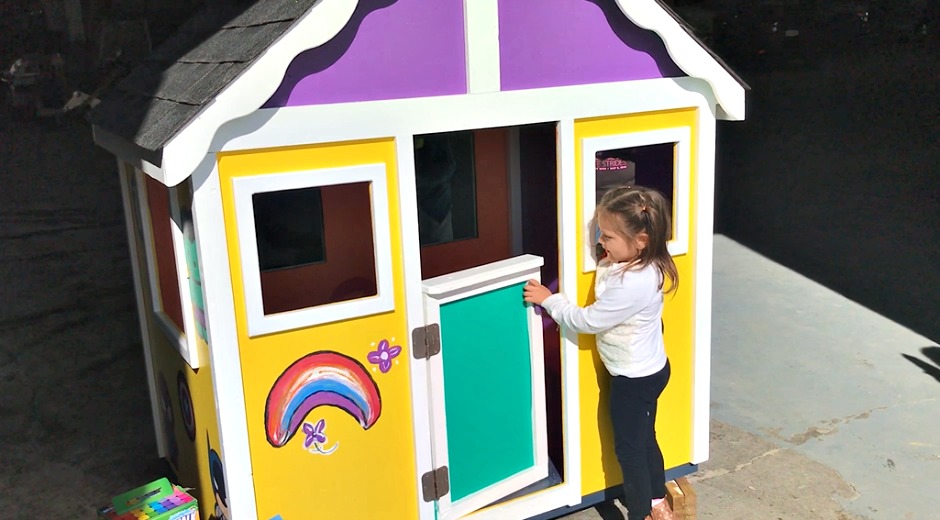 When you think about Habitat for Humanity, you might think about providing housing for folks who are otherwise unable to live the American Dream. But you might not think of playhouses for children.
Now, you can.
Thanks to volunteers from Toledo Edison, the FirstEnergy Foundation and the Maumee Valley Habitat for Humanity, two Toledo children, ages 5 and 3, now have safe and secure play housing.
Playhouses have long been known as a great way for kids to learn social skills and explore their imagination. Low-income families in the Toledo area who might otherwise be unable to acquire a playhouse can apply to the Maumee Valley Habitat for Humanity's Project Playhouse to receive one. Thus far, the program has delivered 75 playhouses across Lucas County.
A $2,500 grant from the FirstEnergy Foundation funded the playhouse, and a second grant will help employee volunteers build another Habitat for Humanity playhouse later this month.
The playhouse materials and supplies were delivered to Toledo Edison's Lakewood Operations Center in Northwood last week, and a group of 12 volunteers was selected from more than 50 company employees who applied to work on the playhouse. The second playhouse will be constructed by volunteers at Toledo Edison's Holland Operations Center before being delivered to a Toledo-area family.
FirstEnergy's Volunteer Time Off program, which provides employees with 16 hours to use for volunteer activities, was cited as one reason interest in the program was so great.
Under the direction of Maumee Valley Habitat for Humanity Development Manager Nate Reid, company volunteers donned safety glasses, painted and assembled walls and doors, nailed donated shingles onto two roof panels, and added painted decorations inside and outside the playhouse. The decorations were based on a theme chosen by the children's mother – princesses for her daughter and superheroes for her son.
Maumee Valley Habitat for Humanity is one of only a few Habitat chapters in the U.S. to use Project Playhouse. According to Reid, the program is the organization's biggest fundraiser and has brought in well over $200,000 in the last two years.
"These little playhouses help us raise money to build big houses, as well as make critical health and safety-related repairs to existing homes in Lucas County," said Reid.
Reid also noted this is the first playhouse Maumee Valley Habitat for Humanity has delivered that has an electric meter painted on the side.
Volunteers put finishing touches on the playhouse and assured all the paint was dry before the family arrived to take delivery. The two children had not been told why their mom was taking them to the Lakewood Operations Center garage, but soon the garage door was raised, and the children were excitedly exploring their new playhouse.
Thanks to the FirstEnergy Foundation for the grant, to the Toledo Edison employees who volunteered, and to Meg Adams, Toledo Edison External Affairs Manager and Trustee, Maumee Valley Habitat for Humanity, for making this happen.
MEDIA CONTACT: Chris Eck, (330) 384-7939