Nissan Offers $5,000 Discount to JCP&L Customers
on All-Electric 2018 Nissan LEAF™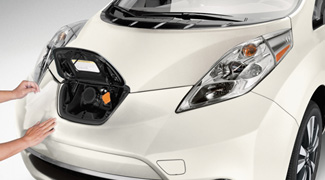 JCP&L customers are eligible for a $5,000 rebate off MSRP on all 2018 models of the Nissan LEAF™ all-electric vehicle. The promotion runs now through January 2, 2019, or while supplies last.
LEAF™ vehicles must be purchased in New Jersey.
Customers must show JCP&L billing statement as proof of eligibility, along with special flyers available here.
Offer cannot be combined with other Nissan special lease, APR or rebate offers.
The purchase also could qualify for up to $7,500 in federal electric vehicle tax credits, and the New Jersey Sales and Use Tax Act provides a tax exemption for qualified zero-emission vehicles.
FirstEnergy supports the adoption of electric vehicle technology, but this offer is not endorsing any specific product over another.
Participating New Jersey Nissan LEAF-Certified Dealerships:

| | | | |
| --- | --- | --- | --- |
| Dealership | Street | City | Phone |
| Acme Nissan | 2050 U.S. 130 | South Brunswick | 732-821-9300 |
| Autoeastern Nissan Meadowlands | 45 Route 17 South | Hasbrouck Heights | 201-881-7277 |
| Bridgewater Nissan | 1400 Route 22 | Bridgewater | 908-722-3600 |
| Cherry Hill Nissan | Rt. 38 and Church Rd. | Cherry Hill | 856-382-1080 |
| DCH Freehold Nissan | 4041 Route 9 N. | Freehold | 732-984-9080 |
| Hudson Nissan | 585 State Route 440 | Jersey City | 201-324-2244 |
| Lynne's Nissan City | 318 Bloomfield Ave. | Bloomfield | 973-743-2111 |
| Route 46 Nissan | 440 Route 46 | Totowa | 973-256-1200 |
| Nissan of Turnerville | 3400 Route 42 | Turnersville | 856-516-6335 |
| Nissan World of Denville | 3057 Route 10 | Denville | 973-442-0500 |
| Nissan World of Red Bank | 120 Newman Springs Rd., E | Red Bank | 732-741-2433 |
| Nissan World of Springfield | 146-162 Rt. 22 W. | Springfield | 877-769-1438 |
| North Plainfield Nissan | 545 Route 22 W. | North Plainfield | 908-912-1400 |
| Pine Belt Nissan | 229 Route 37 East | Toms River | 732-343-7488 |
| Ramsey Nissan | 401 Route 17 South | Upper Saddle River | 800-791-5621 |
| Route 22 Nissan | 56 Route 22 East | Hillside | 908-964-8700 |
| Route 23 Nissan | 1301 Route 23 | Butler | 973-838-0800 |
| Route 33 Nissan | 951 U.S. HWY 33 | Hamilton Square | 609-586-1900 |
| Sansone Jr.'s 66 Nissan | 3401 Route 66 | Neptune | 877-222-4732 |
| Team Nissan | 1715 S. Delsea Dr. | Vineland | 856-696-2277 |
| Woodbury Nissan | 439 Mantua Ave. | Woodbury | 856-853-0005 |