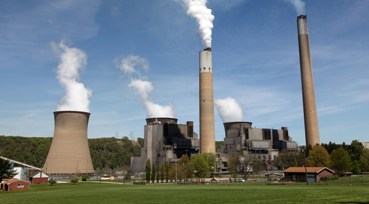 The Bruce Mansfield Plant, located in Shippingport, is the largest electric power plant in Pennsylvania, and one of the largest in the country.
Owned and operated by FirstEnergy Generation LLC, a subsidiary of FirstEnergy Corp., the plant's three generating units produce 2,490-megawatts – enough electricity to power more than 1.5 million homes.
Employs approximately 360 people, plus 500 more during annual outages
Pays more than $1.2 million annually in property taxes and approximately $4 million annually in state and local taxes
One of the most environmentally advanced power plants in the Commonwealth, with flue gas desulfurization scrubbers, particulate control devices, and selective catalytic reduction equipment to remove nitrogen oxides
State-of-the-art process that recycles more than 450,000 tons of gypsum per year to National Gypsum Corporation (NGC) wallboard factory across the street, which employes approximately 100 people
The Bruce Mansfield Plant was the first coal-fired power plant in North America built with sulfur dioxide (SO2) scrubbers installed as original equipment. The scrubbers utilize a lime-based solution to remove more than 95 percent of the SO2 from the plant's emissions.
The scrubbing process produces what is called coal combustion byproducts (CCBs). The CCBs are stored at a residual waste disposal facility known as Little Blue Run that is permitted by the Pennsylvania Department of Environmental Protection (DEP).
The material stored at Little Blue Run is approximately 60 percent lime-based scrubber agents and 40 percent coal ash. Over the years, the material in the impoundment has been covered with mulch and vegetation.
Overall, the Little Blue Run impoundment facility encompasses approximately 1,700 acres. More than 9 million cubic yards of rock fill was used to construct the dam, which measures 2,200 feet across the crest, 1,300 feet thick at the base, and 400 feet high. FirstEnergy personnel are on-site to monitor the operations at Little Blue Run on a daily basis.
Twice a year, an independent outside engineering firm conducts a comprehensive inspection of the dam. The results are provided to FirstEnergy, which then provides an annual report to DEP.
Little Blue Run features an extensive water monitoring program that includes more than 50 groundwater wells, more than 30 surface monitoring points and more than 30 domestic wells. Sampling results are submitted to DEP on a quarterly basis.
Last Modified: February 8, 2016