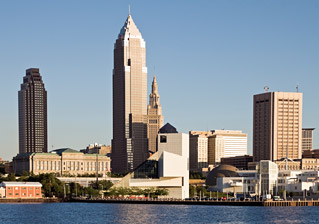 Real estate developers are investing big in Cleveland. In the 1990s, Cleveland was the comeback city. Now, it's the "here to stay" city. The NBA Finals came to Cleveland in early June, and then, about a month later, the Republican National Convention will be held here. These two high-profile events give Cleveland the opportunity to show off its vibrant restaurant scene and entertainment venues, as well as its desirable and affordable housing. In the meantime, the city is already attracting record numbers of people – particularly young professionals – to live and work in its downtown and nearby neighborhoods.
The cascading effect on the commercial and residential real estate market is palpable. "The boom in the downtown population has created the need for grocery stores and other retailers, along with professional services, such as doctors and dentists, and other essential service providers in Cleveland's urban-core neighborhoods," says T.J. Asher, chairman of commercial real estate firm Weston Inc.
Opportunities Abound for Downtown Development
Promising a big-city experience without the driving hassles and high cost of living found in other major cities, Cleveland has seen significant population growth downtown during the past decade. And regional urban planners foresee a day when the number of people living in downtown Cleveland could double from current levels.
"Cleveland continues to attract businesses that want to offer their employees the amenities available downtown and appeal to residents who are seeking an urban lifestyle they can't find anywhere else," Asher says, adding rental rates are far less than those in cities on the East or West coasts.
Recognizing this opportunity, major real estate firms are investing millions of dollars to renovate older, centrally located buildings for residential and commercial use. But they are only just beginning to tap in to the potential of Cleveland's corporate markets, particularly in its urban-core neighborhoods. "The pool of skilled professionals living downtown has made urban-core expansion a viable option for businesses that previously might have stayed in the suburbs to meet the commuting needs of a primarily suburban workforce," Asher says.
Once commercial development catches up with residential projects, additional spillover growth is expected in surrounding neighborhoods, supported by Cleveland's public transportation system. "West side residents in Ohio City, Tremont and West Park are a short ride on public transportation from downtown," Asher says. "East Side light rail and bus transit services run to and from growing and sought-after neighborhoods such as University Circle and Little Italy."
Cleveland's urban neighborhoods also are seeing new construction, along with the renovation of outdated buildings. Recent projects include development of the East Bank of the Flats along the Cuyahoga River and of the Warehouse District – a nationally recognized historic district and the city's oldest neighborhood. "We're bringing the best of the old together with the new in the Warehouse District and beyond, creating a cityscape that is uniquely Cleveland," Asher says.
FirstEnergy's Economic Development team can provide the assistance you need when you're looking to move to or expand your business in Ohio, Pennsylvania, New Jersey, West Virginia or Maryland. Learn more at www.firstenergycorp.com/economicdevelopment. Stay up-to-date on the latest Economic Development news on LinkedIn.
Last Modified: June 14, 2016