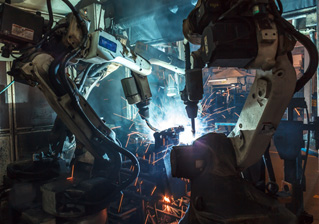 Mention central Ohio, and many people think of agriculture: cornfields that stretch for miles alongside highways and railways. While this farming heartland – located about 45 minutes north of Columbus – is the nation's largest producer of popcorn, technology is growing here, too.
The number of industrial robots used in Ohio factories reflects this growth, and is multiplying dramatically. And more growth is on the way. The International Federation of Robotics (IFR) estimates that approximately 2.3 million industrial robots will be in operation across the globe by 2018, creating new efficiencies – and a million new jobs.
As these numbers grow, so does the need for a highly skilled workforce to program these machines and keep them running.
Closing the skills gap
Marion County saw the looming skills gap as an opportunity. For nearly 150 years, the county's workforce has built machines and parts that have made the United States a global manufacturing leader. From steel and steam shovels to automotive components and industrial equipment, "MarionMade" is both a county slogan and a regional tradition.
"Our main goal was to build on Marion's manufacturing legacy and to be a catalyst for economic development," says Chuck Speelman, longtime automation champion and superintendent of Tri-Rivers' Career Center Robotics and Advanced Manufacturing Technology Education Collaborative (RAMTEC). "We also wanted to change perceptions about manufacturing while providing pathways to true living-wage jobs."
Marion schools quickly embraced K-12 Science, Technology, Engineering and Mathematics (STEM) programming, and educators from The Ohio State University, Marion Technical College and Tri-Rivers Career Center began talking with automated equipment vendors and representatives from local industry.
From those conversations, RAMTEC was born.
RAMTEC was established at Marion's Tri-Rivers Career Center in 2012, and since then, the training center has certified more than 350 students in industrial maintenance, engineering technology, advanced machining, robotics and welding careers. RAMTEC graduates have been hired by companies such as Honda of America Mfg. Inc., RobotWorx, SEMCO Manufacturing Co., Union Tank Car Co. and Whirlpool Corp.
Building a highly skilled workforce
RAMTEC immerses students in a training experience that mirrors real-world work. High school students and adults learn together from industry professionals, using the latest equipment.
In addition, all RAMTEC training is hands-on – from computer-aided design and logic control to robotics, hydraulics, pneumatics, and traditional and automated welding. The approach has attracted partnerships with equipment vendors such as FANUC Robotics, Yaskawa Motoman and Lincoln Electric, and a growing list of area employers that serve as Industry Partners. RAMTEC also conducts "train the trainer" programs and provides onsite training for employees of Allen-Bradley Rockwell Automation, Mitsubishi Electric and Parker Hydraulics.
Children are the future
Outreach to new generations is ongoing. During the school year, tours of the RAMTEC facility spark interest in manufacturing careers. And RAMTEC's involvement with VEX Robotics competitions gives students hands-on experience in robotics engineering.
"Technology is changing constantly," says Mark Edington, award-winning robotics educator at Tri-Rivers RAMTEC. "We have to get to these kids as young as possible."
Ritch Ramey, instructor and RAMTEC engineering coordinator, agrees.
"It's important that kids start understanding the concept of robotics early," Ramey says. "We're going to see the use of robots expand tenfold over the next 15 to 20 years. They should know the basics."
The success of Tri-Rivers RAMTEC has led to the creation of 23 other RAMTECs throughout Ohio. Thanks to industry and community partnerships, and more than $22 million in funding from the State Department of Education, Ohio will be cultivating highly skilled talent for years to come.
FirstEnergy's Econimic Development team can provide the assistance you need when you're looking to move to or expand your business in Ohio, Pennsylvania, New Jersey, West Virginia and Maryland. Learn more at www.firstenergycorp.com/economicdevelopment.
Last Modified: May 29, 2018