FirstEnergy Joins Host Committee for IAMC 2015 Fall Forum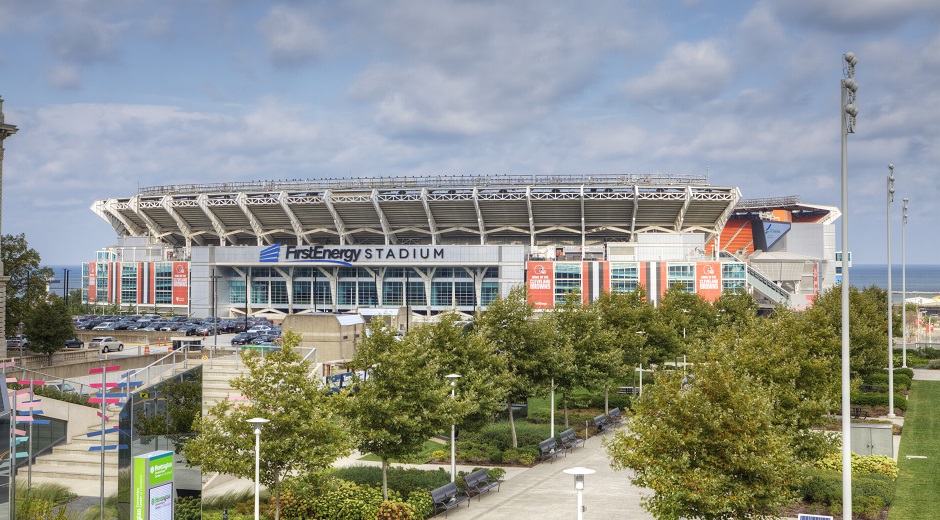 FirstEnergy recently partnered with Team NEO* and other Ohio economic development organizations to host Industrial Asset Management Council's* (IAMC) 2015 Fall Forum in Cleveland, Ohio.
The twice-yearly forum takes place in cities across the country, bringing together hundreds of industrial asset management and corporate real estate executives, their suppliers and service providers, and economic developers for several days of presentations, workshops and networking.
FirstEnergy's Economic Development team was involved in many aspects of the Fall Forum, from event sponsorship to assisting IAMC with conference logistics. Below is a recap of this exciting event, as well as background on how IAMC helps FirstEnergy's Economic Development professionals stay in the know.
Inspiration and education
The 2015 Fall Forum program offered many inspiring addresses from motivational speakers, as well as information-rich sessions with subject matter experts who offered outlooks on key issues affecting various industry sectors.
Of note, the "Electric Power and America's Industrial Productivity" workshop featured Cleveland Electric Illuminating Co. President John Skory and American Electric Power* President and Chief Executive Officer Nick Akins, who discussed changes facing electric utilities today and how the industry plays a key role in manufacturing. The session was moderated by Kevin Dollhopf of Hanesbrands, Inc.,* the outgoing chair of IAMC.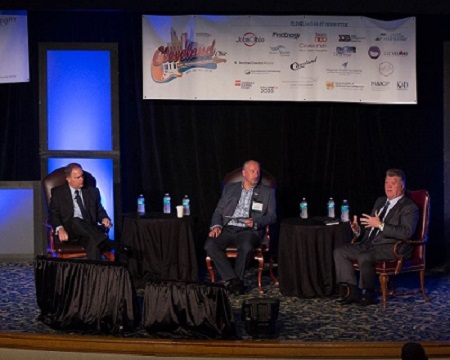 Pictured (l. to r.): Nick Akins, president and chief executive officer, American Electric Power; Kevin Dollhopf, vice president, Worldwide Real Estate, Hanesbrands, Inc.; John Skory, regional president, Cleveland Electric Illuminating Company.
According to Melissa Frank, Economic Development executive for FirstEnergy, the main focus of the conference is education and networking.
"The Fall Forum gives attendees the opportunity to really get to know people and build lasting relationships. It makes a big impact," Frank said.
Service at the core
An important focus of each IAMC Forum is community service, with a planned volunteer service project to kick off each event. The 2015 Fall Forum project took place at Rivergate Park,* where participants spent several hours planting perennials. Volunteers also took a guided boat tour of the Cuyahoga River that demonstrated how the river and the dense industrial neighborhood have come to responsibly co-exist.
Northeast Ohio shines
From cheering on the Cleveland Browns at FirstEnergy Stadium to dining at award-winning restaurants, Fall Forum attendees had the opportunity to experience everything Cleveland has to offer. And, no trip to Northeast Ohio is complete without visiting the iconic Rock and Roll Hall of Fame,* where attendees enjoyed dinner, live music and access to the museum.
FirstEnergy gains value year-round from IAMC
FirstEnergy is a proud member of IAMC. The company's Economic Development team utilizes the organization's high-quality programming for ongoing professional development.
Melissa Frank says that IAMC regularly provides valuable information and networking opportunities to its members, which helps FirstEnergy's Economic Development professionals stay up-to-date on best practices.
"Being an IAMC member and attending the organization's events allows our team members to enhance our knowledge of key issues affecting site selection professionals and businesses," said Frank. "Through IAMC, we are able to better understand the pain points of businesses looking to expand, and, ultimately, how we can better serve them."
For more information on IAMC and to attend a future Forum event, visit the IAMC website at www.iamc.org.*
FirstEnergy's Economic Development team can provide the assistance you need when you're looking to move to or expand your business in Ohio, Pennsylvania, New Jersey, West Virginia and Maryland. Learn more at www.firstenergycorp.com/economicdevelopment, and stay up-to-date on the latest Economic Development news on LinkedIn.
*By clicking this link you are leaving the FirstEnergy website and entering a website maintained by third party. The third party is entirely responsible for the content of their website.