JCP&L Remains Focused on Restoring Longest-Duration Outages
Latest Storm Causes Additional Outages, Hazardous Conditions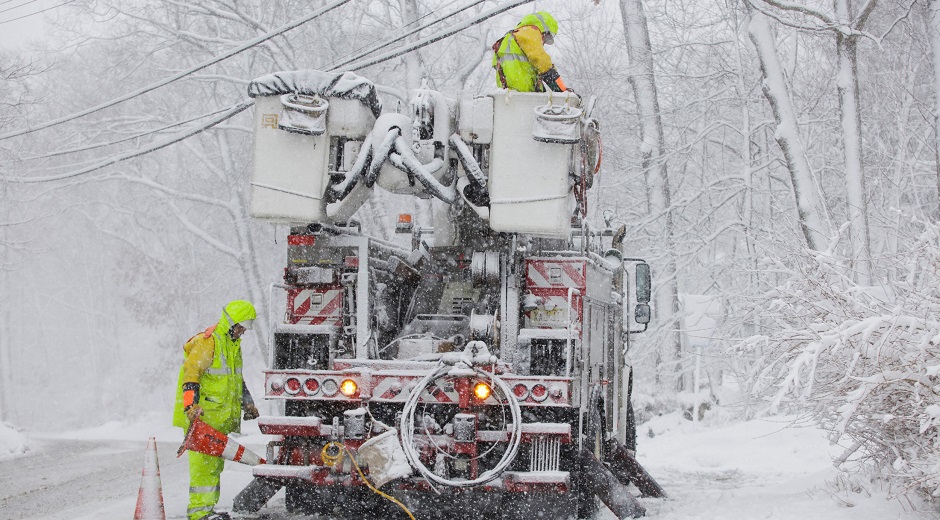 MORRISTOWN, N.J., March 8, 2018 -- More than 4,100 workers are continuing their efforts around the clock to restore customers of Jersey Central Power & Light (JCP&L) after a major winter storm dumped as much as 25 inches of wet, heavy snow in some areas of northern New Jersey yesterday.
Utility crews remain focused on restoring customers who have been without power the longest. JCP&L has already restored nearly 320,000 customers since the first storm hit northern New Jersey, and approximately 18,000 remain without power from the original event, primarily in Hunterdon, Morris, Warren and Sussex counties. JCP&L is putting every resource available to restore these customers. Due to the extent of new damage from yesterday's storm, it is not possible yet to establish meaningful restoration times. JCP&L expects to complete enough evaluation of system damage to set these estimates this afternoon.
Yesterday's heavy snow caused about 117,000 additional power outages, along with treacherous driving conditions, downed wires and road closures. New snow totals are highest in areas of northern New Jersey that were hit hardest by the first storm, and the heavy, wet snow also caused outages in areas of central New Jersey that were unaffected by the first storm. While JCP&L remains focused on restoring customers who have been out the longest, the company will address any new outages based on its priority system that deals with the largest outages first.
"Our number one priority is restoring those customers who have been without power the longest," said Jim Fakult, President of JCP&L. "We have a huge contingent of utility crews working 16-hour shifts around the clock to accomplish this goal, and with fair weather predicted in the days ahead, we're confident we will get the job done. In the meantime, we'll continue to keep the lines of communications open as we make further progress."
JCP&L reminds customers to immediately report downed wires to their utility at 888-LIGHTSS (888-544-4877), or to their local police or fire department. Customers should never go near a downed wire even if they think it is no longer carrying electricity. Extra caution should be used in areas where downed lines are tangled in trees or other debris.
Jim Fakult and other company officials will hold a press conference at 3 p.m. today at the company's Summit Line Shop located at 52 Chatham Road in Summit, N.J. JCP&L will continue to post storm updates on social media and on the company website. Follow JCP&L on Twitter @JCP_L, on Facebook at www.facebook.com/JCPandL or online at www.jcp-l.com.
After local power lines are repaired and put back in service, damage to individual customer service wires may become apparent. Customers are reminded that if their neighbor's power is on and theirs is not, the problem may be isolated to their individual service, and service to the neighbor could be fed from a different circuit. Customers are encouraged to report such problems, even at this latter stage in the restoration process.
JCP&L is a subsidiary of FirstEnergy Corp. (NYSE: FE). JCP&L serves 1.1 million New Jersey customers in the counties of Burlington, Essex, Hunterdon, Mercer, Middlesex, Monmouth, Morris, Ocean, Passaic, Somerset, Sussex, Union and Warren. Follow JCP&L on Twitter @JCP_L, on Facebook at www.facebook.com/JCPandL or online at www.jcp-l.com.
FirstEnergy is dedicated to safety, reliability and operational excellence. Its 10 electric distribution companies form one of the nation's largest investor-owned electric systems, serving customers in Ohio, Pennsylvania, New Jersey, West Virginia, Maryland and New York. The company's transmission subsidiaries operate more than 24,000 miles of transmission lines that connect the Midwest and Mid-Atlantic regions. Visit FirstEnergy online at www.firstenergycorp.com and follow on Twitter @FirstEnergyCorp.
CONTACT: Ron Morano, 888-233-3583