FirstEnergy Grant Gives Students Glimpse into Marine Engineering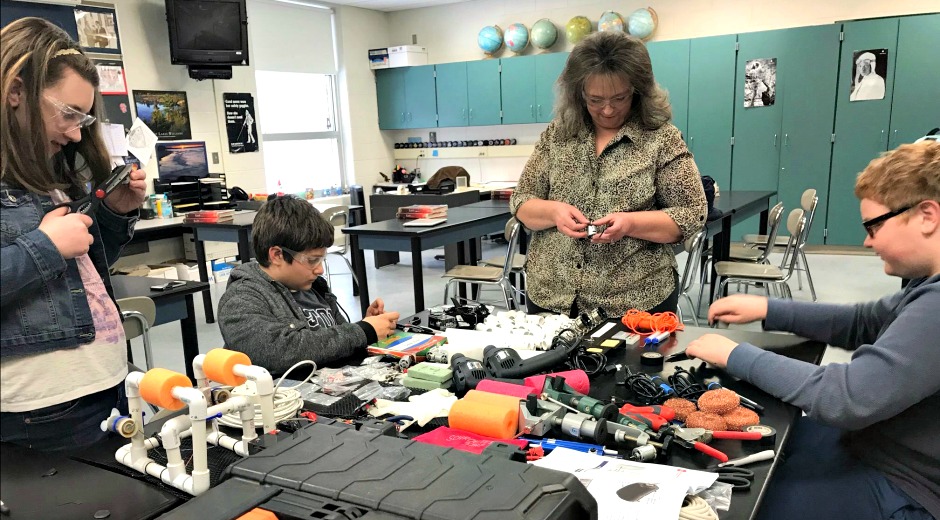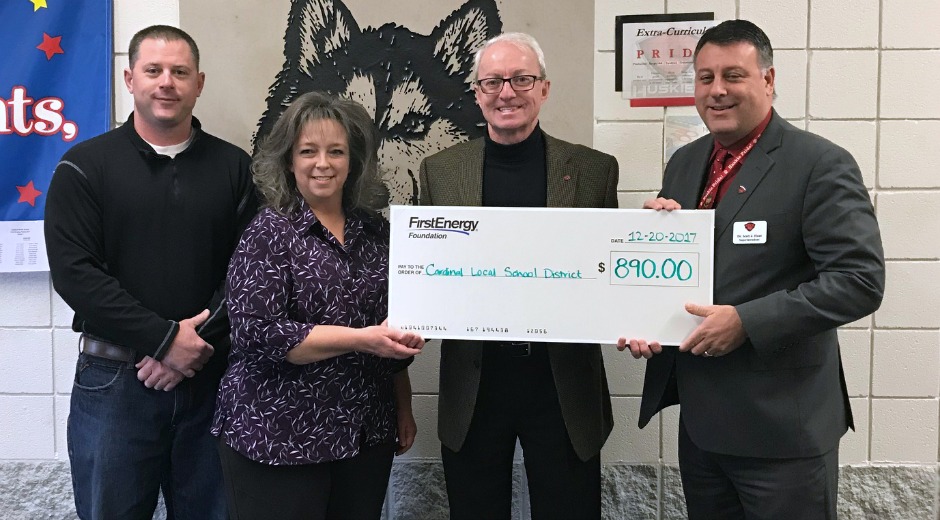 Cardinal Middle School students may be several years away choosing their future career paths, but an underwater robotics program funded by a FirstEnergy STEM grant will give some of them a glimpse into the field of marine engineering.
Christine Schroeter, a paraprofessional at the Middlefield, Ohio, school, used her $890 grant from FirstEnergy to purchase equipment and supplies for students to construct four underwater remotely operated vehicles (ROV) using low-cost, easily accessible parts.
Schroeter is using the SeaPerch curriculum, which teaches basic engineering and science concepts with a marine engineering theme. The projects help students learn engineering concepts, problem solving, teamwork and technical applications.
"I am so excited these students will have the opportunity to explore naval architecture and marine and ocean engineering principles and careers," said Schroeter, a nationally certified SeaPerch ROV trainer and lieutenant in the U.S. Naval Sea Cadet Corps' Akron Battalion.
The six students currently enrolled in the robotics program were selected through an application process that required a teacher referral. The program can accommodate up to eight students.
According to Schroeter, the goal is to have all four robots – which each take about 30 hours to assemble – completed by spring. The students meet for two hours each week, and are starting to work with power tools, build the motors and waterproof the equipment. An electrical engineer will assist them once they are ready to complete the electrical elements of the project.
Upon completion of this program, the students will partner with the Geauga Park District to sample water quality in the park district's rivers and lakes using three of their robots. They will also provide underwater surveillance with the fourth robot, equipped with a camera funded by the East Geauga Kiwanis.
"We have a lot of intense work to do, but I think we have a great group of students and volunteers on board, and I'm confident that these ROVs will come together as expected," Schroeter said.
"FirstEnergy has always supported educational activities that encourage students to pursue careers in critical fields of science, technology, engineering and mathematics," said Dave Dillon, external affairs manager for The Illuminating Company, a FirstEnergy electric company. "We are pleased to assist with STEM projects that support our students, schools, and educators as they work to build our region's future workforce."
More than 1,000 educators and leaders of youth groups located in communities served by FirstEnergy's 10 electric companies—and in communities where the company has facilities or does business—have received classroom grants from FirstEnergy since the program began during the 1986-87 school year.
Applications for the 2018-19 school year will be available this spring at www.firstenergycorp.com/STEM.
MEDIA CONTACT: Lauren Siburkis, (330) 203-8850