FirstEnergy Foundation Donates $2,500 to Leadership Lake County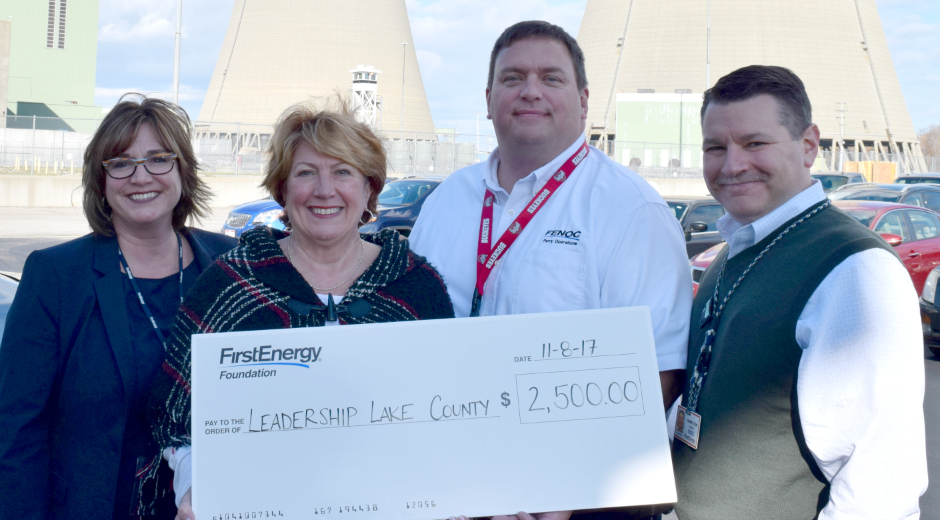 AKRON, Ohio, Nov. 8, 2017 -- The FirstEnergy Foundation has donated $2,500 to Leadership Lake County to support the organization's highly interactive leadership development programs.
The mission of Leadership Lake County is to develop and engage present and future leaders including students, young professionals and executives to become committed to social, economic and civic excellence in the county. Since its inception in 1986, more than 1,800 leaders who live or work in Lake County have graduated from its leadership programs.
"Leadership Lake County has been making a positive difference in our community for more than 30 years, and 21 current or former FirstEnergy employees are proud alumni of its development program," said Dee Lowery, president of The FirstEnergy Foundation. "We look forward to continued collaboration with the group to encourage innovation, community participation, and economic development solutions that benefit the region."
"Investment in young leaders today means talent retention for our region in the future," said Dr. Jessie Baginski, Leadership Lake County President and Chief Executive Officer. "We are grateful for the recognition and support from the FirstEnergy Foundation, which allows us to advance the leadership capacity and connections across four generations of Lake County leaders."
The FirstEnergy Foundation is funded solely by FirstEnergy Corp. (NYSE: FE) and provides support to non-profit, tax-exempt health and human services agencies; educational organizations; cultural and arts programs and institutions; and civic groups in areas served by FirstEnergy's 10 electric operating companies and in areas where the company conducts business.
FirstEnergy is dedicated to safety, reliability and operational excellence. Its 10 electric distribution companies form one of the nation's largest investor-owned electric systems, serving customers in Ohio, Pennsylvania, New Jersey, West Virginia, Maryland and New York. Follow FirstEnergy online at www.firstenergycorp.com. Follow FirstEnergy on Twitter @FirstEnergyCorp.
Editor's Note: A photo of the check presentation is available for download on Flickr.
CONTACT: News Media Contact: Jennifer Young, (330) 761-4362