FirstEnergy Recognizes the Power Behind the Power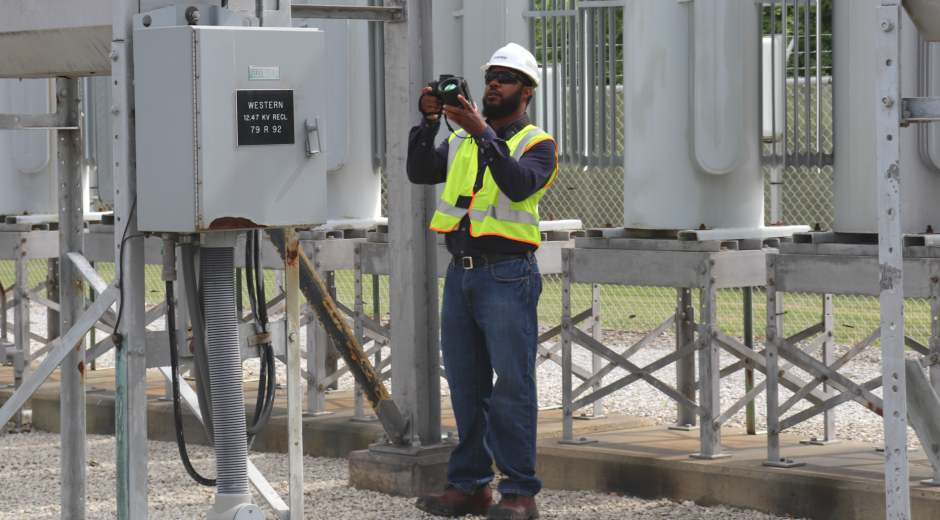 Behind every flick of a light switch or press of an electronic appliance button, there is an entire team of utility personnel working hard to make sure that electricity is delivered reliably and safely to homes and businesses.
From monitoring the weather forecast for severe weather to fielding outage calls and identifying where to send our crews, we'd like to recognize a few employees who are key to providing the electric service you depend on each day.
Tom Workoff, Meteorologist
Unlike traditional meteorologists you see on TV, meteorologists at FirstEnergy are not concerned about how the weather will impact travel plans or if you need an umbrella before leaving the house. Their focus is tracking weather that could spell trouble for the company's 10 electric utility companies in Ohio, Pennsylvania, New Jersey, Maryland and West Virginia.
"We're most concerned with tracking weather conditions that are most likely to knock power out our customers," said Workoff. "High winds, lightning, heavy wet snow and freezing rain pose real threats to our utility companies because they could potentially cause significant power outages."
Their goal is to ensure the utilities are not caught off guard. At the first hint of potential trouble, Workoff alerts area managers of impending severe weather. A storm call is organized with leaders from each of the affected utility companies and support staff, including the Emergency Operations Center, to help ensure line workers, dispatching staff and other field personnel are ready to be mobilized, if needed.
Tom Workoff talks about the role of FirstEnergy's meteorologists - view video
Lisa Rouse, Director of Outage Management
When outages occur, decisions need to be made quickly. Rouse's team analyzes multiple data streams, including customer outage reports, and allocates resources efficiently to get the power back on for customers.
When a customer contacts us to report a power outage, the data is entered into the company's Outage Management System (OMS). This system automatically evaluates the pattern of reported outages and determines the likely location of trouble. A regional dispatcher then sends a crew to the location to determine the extent of the problem and repair it as quickly and safely as possible.
According to Rouse, the OMS works best when it receives plenty of information to analyze.
"Even if a neighbor has already reported their power being out, you should report your outage, too," she said. "The more reports we receive, the more accurately we can determine the extent of the outage and its cause."
We've made it easy for you to report your outage:
Phone: Call our Outage Reporting Line at 1-888-LIGHTSS (1-888-544-4877)
Online: Click here, or use our app.
Text Message: Just text OUT to 544487 (LIGHTS)
Learn more about text messaging and other communication tools.
Caleb Loosli, Dispatcher
When you report your outage via phone, web or text message, our dispatchers, like Loosli, use your information to determine where to send our crews to restore power.
"When a customer reports an outage, downed power line, car/pole accident, or any other issue affecting their electricity, we send our troubleshooters out to the location to investigate the damage," said Loosli.
From there, the troubleshooters relay their findings back to dispatchers so they can determine what steps need to be taken to restore power or repair the damage out in the field, he said.
Caleb Lossli talks about the role of dispatchers - view video
For more information about how FirstEnergy prepares for and responds to severe weather and power outages, visit our storm restoration process page.
D'Andre Rodgers, Advanced Equipment Support Specialist
To help ensure reliable electric service – especially during high-demand periods like summer and winter when customers rely on air conditioning and heat – FirstEnergy's electric companies conduct annual equipment inspections using thermovision cameras. The high-tech cameras are used to capture infrared images of electrical equipment that can detect potential problems within substations and on power lines that cannot be observed during regular visual inspections.
"This is very proactive maintenance that we're performing," said Rodgers, a thermographer who travels across the company's footprint to complete the inspections. "Infrared images are able to identify equipment issues such as loose connections, corrosion and load imbalances, and we're able to send a crew out to make repairs prior to a power outage occurring."
The infrared technology shows heat on a color scale, with brighter or "hot spots" indicating areas that could need repairs. Thermographers, like Rodgers, share the footage with team of utility personnel and they are able to prioritize their work load and develop a maintenance plan tailored to the areas of concern.
D'Andre Rodgers completes thermovision inspection - view video
MEDIA CONTACT: Lauren Siburkis, (330) 203-8850