FirstEnergy and its affiliates have a variety of commercial, industrial and residential properties available for sale or lease across Ohio, Pennsylvania, New Jersey, West Virginia and Maryland.
Use the search feature below to view the profiles of available properties, and visit this page often, as it is updated frequently.
Featured Properties

Map data: Google Earth, @ 2017 Google
Top of Rockside Development Opportunity
Independence, OH
10.7 acres | Land for sale | Zoned: U5 Office Building and Research Laboratory | 1 Parcel
More Details Listing B71
Map data: Google Earth, @ 2017 Google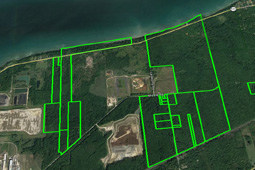 Ashtabula 794 acres
Ashtabula, OH
794 acres | Land for sale | Zoned: M-2 Heavy Industrial | 23 Parcels
More Details Listing B1
Search All Properties
Search for a property that meets your needs.
Inquiries?
Contact a FirstEnergy real estate representative.
Maintaining Rights-of-Way
FirstEnergy operating companies have a priority to keep their right-of-way corridors clear of obstructions, impediments, and structures in order to maintain safe, reliable service to their customers, as well as to provide power flow to other areas on the transmission grid. To do so, we have developed a list of transmission rights-of-way restrictions. Everyone must abide by these restrictions.
Disclaimers
The information contained herein is provided as a courtesy only and is not offered with representation or warranty as to the financial or physical condition of the property. All property offered "as is" and interested parties must satisfy themselves that the financial and physical condition of the property is satisfactory for intended uses. Offers, letters of intent, and negotiations regarding terms and conditions pertaining to specific properties are non-binding upon FirstEnergy Corp., its affiliates, employees or agents, and are subject to change. Furthermore, all agreements are subject to FirstEnergy Corp. and its affiliates approval, and the execution by said parties of mutually acceptable documents thereafter.