Installing new, smart technology in substations and along transmission lines that can be operated remotely to help prevent some outages from occurring. Or, if an outage does occur, this advanced equipment is expected to help reduce the number of customers who are affected and shorten the duration.
Enhancing our infrastructure is expected to lower maintenance costs charged to customers. While still functional, older equipment costs more to maintain and may be unable to be retrofitted with new smart technology.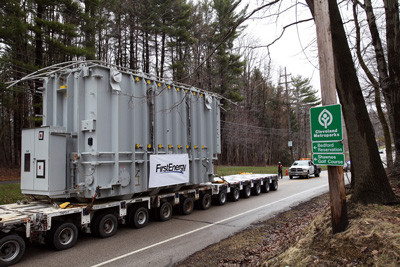 FirstEnergy crews transport a massive, 220-ton electric transformer along area
roads as part of substation enhancement project.
Last Modified: April 29, 2015