New projects are expected to increase our load-serving capability in portions of our service territory where economic growth is occurring or is anticipated, particularly in the Marcellus and Utica shale gas regions.
In 2014, more than 400 megawatts (MW) of new shale gas-related electric demand came online in FirstEnergy's territory, and more than 1,100 MW of additional planned expansion is expected at customer facilities through 2019.
FirstEnergy is making major investments on transmission upgrades to support the shale gas industry. The new transmission facilities will also help enhance service reliability for other area customers.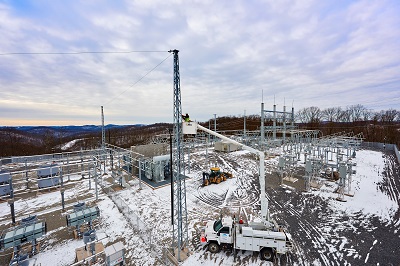 Our new Waldo Run transmission substation in Doddridge County, W.Va., supports the area's Marcellus shale gas industry and enhances service reliability for Mon Power customers.
Last Modified: April 29, 2015