Partnering with local communities
FirstEnergy relies on local contractors for some of this work, which creates local jobs. The environmental impact of most of these projects will be minimal.
Most of the work will be done along existing rights-of-way, or within existing substations and facilities on FirstEnergy property, with minimal long-line construction. Helicopters are often used to string new lines, which completes the work faster and reduces the need to move large trucks and equipment across private property. Our staff is dedicated to working closely with local elected officials and property owners to address concerns and provide timely project updates.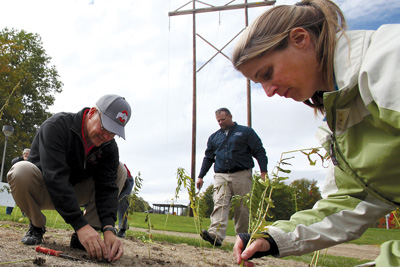 FirstEnergy foresters participate in an Ohio State University demonstration project that seeks to rejuvenate declining populations of bees and other pollinating insects.